About This Site
This website is an initiative to consolidate non-academic, University-wide policies in one location, allowing Columbia students, faculty, and staff to easily find policies applicable to them. Previously, people had to search multiple sites to find the policy information they needed.
In this site's first phase of development, the central offices of Columbia Facilities and Operations; Finance; and Human Resources have been the primary participants by consolidating on this site the policies that previously resided on policy sites managed by these teams. The addition of new policies will follow the review and approval process currently established by the Administrative Policy Advisory Council, a group with a broad cross-section of University administrators.
As this site grows and visits increase, we welcome the participation of additional offices and departments to further enhance the site's value to the Columbia community.
Disclaimer
This site is intended to be a repository for non-academic policies that are broadly applicable to the University. However, it does not include all Columbia University policies. Visit our listing of additional policy sources.
For policies that apply solely to an individual Columbia entity such as a school, department, laboratory, or research center, please refer to that entity's own sources of policy-related information.
You can find policies on this site by:
using the main menu to search by your role (e.g., Students, Faculty, etc.)
using the main menu to search by the responsible office (e.g., Finance, Human Resources, etc.)
entering keywords in the search bar in the upper right corner (e.g., "Social Security Number Usage," "Purchasing Cards," etc.)
If you have questions about one of the policies listed on this site, contact the responsible office identified in the right-hand sidebar of that policy's web page.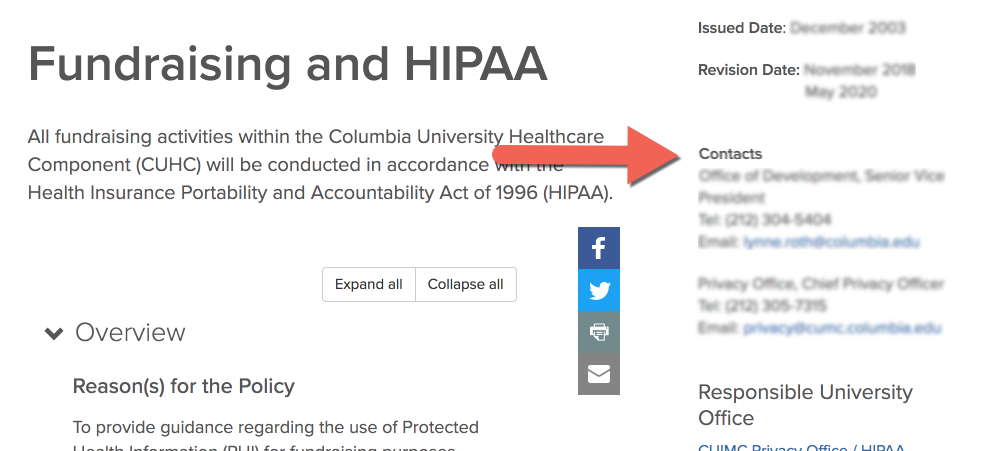 Adding a new policy or revising an existing policy on this site involves several steps outlined in the diagram below.
Consult and research
Draft or revise the policy.  (Follow the format of the unpublished "University Policies Template"  that may be found in the Content Library while in edit mode.)
Review and approve
Publish, communicate, and keep current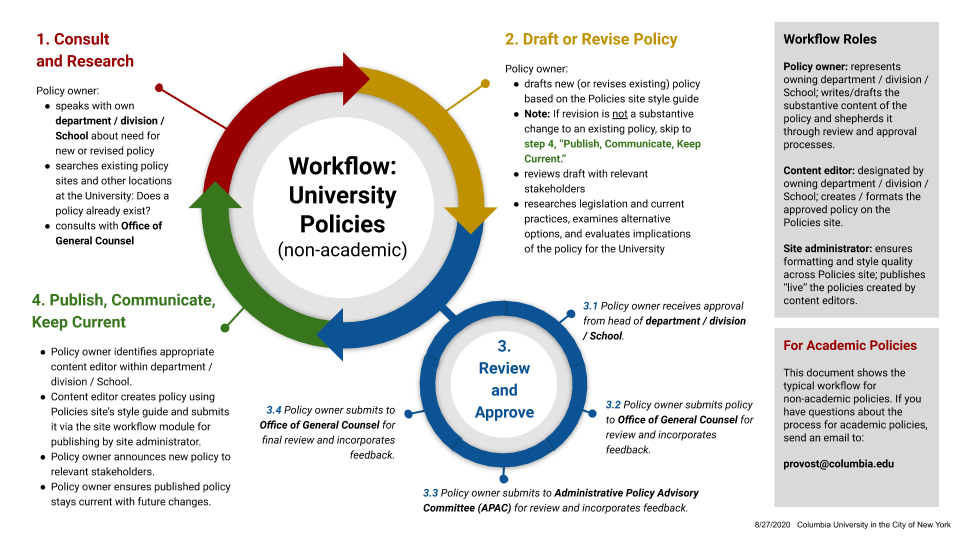 Technical Issues
If you experience technical issues that affect the site's stability or performance, contact [email protected].